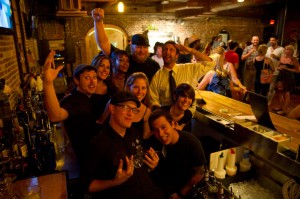 WHERE: 1327 E. 7th Ave.
WHAT: Authentic Hipster establishment with delicious café-style cuisine, funky local art décor, an assortment of for-play board games, an awesome selection of craft brew, and badass live music sessions and events. It's cool not because it is trying to be. It just is.
WHEN (To Go): When the beer is FREE.  It is imperative to follow The Bricks on Facebook so that you will be the first to know when the staff taps their Free-Until-It's-Gone Keg. This happens once or twice a month so stay tuned.
WHY: Because Tampa has been waiting for a place like this. With an urban yet unpretentious vibe, this hang-out café/restaurant/bar serves food that is simple and familiar yet awesomely better than what you could make with the same ingredients. (Yes, there are versions of PB&J and grilled cheese on the menus.)
WHO (To Take With You): Your friend that carries his/her skateboard everywhere. The Bricks is owned by the Skatepark of Tampa so it frequently hosts post-parties and promotional events for Tampa's world-class Skatepark, and it is right next door to the Ybor SPOT Skate Shop.
HOW: p. 813-247-1784; On Facebook ; Food Menu; Drink Menu