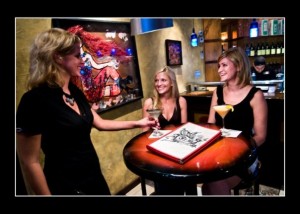 Wednesdays are good days for the Ladies of Tampa Bay. Check out our list of local Ladies Nights and other great food and drink specials around Tampa on this lovely hump day.
Gaspar's Grotto – Ybor City – Music Nation Wednesdays $5 Liter Beers Starting at 8pm
The Patio Tampa – South Tampa – Ladies Night, enjoy 50% off all drinks 8PM – Close. $10 All the wine you can drink from 10PM – 1AM (ladies only)
MacDinton's – Hyde Park – Greek Night $10 Open Bar from 9pm-11pm for ALL. From 7pm-close enjoy, $3 Heineken, $3 Fire eater shots, $4 Sailor Jerry, $5 Long Island Ice Teas. Compete in the Beer Pong Tournament every Wednesday at 11
The Lodge – SoHo – WTF Wednesdays $5 beef burgers, sushi, full cheese pizzas, wings, select draft liters all day; live DJ all night
Green Lemon – SoHo – Wednesday Trivia Night Starts 8 PM; $50, $30, $20 prizes for 1st 2nd and 3rd places (free to play). Enjoy $4 Yards, $4 House Wine, $4 ThreeOlives
The Brass Tap – Ybor City – Trivia Night Starts at 8 pm, includes drink specials during trivia
The SoHo Backyard – Hyde Park – Wine & Cheese Wednesdays Get 2 glasses of wine, 4 cheeses, strawberries, grapes, apples and crackers for only $20!
Double Decker – Ybor City – Karaoke Night 2-for-1 Drafts ALL day and ALL night!
Green Iguana – Ybor City – $1 DRINK NIGHT 9-10pm $1 Drinks, 10-11pm $2 Drinks, 11-midnight $3 Drinks include all 3 Olives, Bacardi Flavors, Jack Daniels, Sailor Jerry, Southern Comfort. Also enjoy $2 Bud & Bud Light bottles, $2 Captain Morgan, $3 Jager.
The Bungalow – Hyde Park – Bottomless Wine All-U-Can Drink White & Red Wines from 5pm-7pm.
Green Lemon – Hyde Park – "Girls Night Out" For the Ladies: Free Sangria from 6pm-7pm, Happy Hour ALL NIGHT as well as $3 Dos Equis Drafts.
Lit Cigar Bar – Channelside – Get 2 for 1 Wines, 20% off all Scotch & Cognac.
Did we miss something? Another great Wednesday Night Deal we forgot to add to our list? If so, let us know?
Please keep in mind that things don't always go as planned and specials are subject to change. So if you get to one of our deal spots and your server looks at you like you are crazy when you say you won't pay full price, please don't blame us!