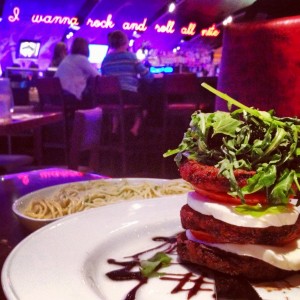 Tampa has long had the luxury of the nearby Hard Rock Hotel and Casino, but only in early 2011 did the entire Rock experience come full circle. Now in addition to gambling and gaming, Tampa residents can enjoy entertainment and entrees offered by our very own Hard Rock Café.
Inside the Café of Rock
The major allure of the Hard Rock Cafe is its atmosphere. It's flashy, sexy and vibrant – a perfect escape place to experience the wilder side of life – the life of a rock star.
Whether attempting to walk in the shoes of a superstar or see the actual shoes of superstar, visitors of the Hard Rock Café can experience all angles of the limelight.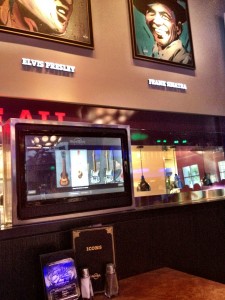 Most tables offer a vibe and view that feels like center stage or a VIP section of a show.  And with individual touchscreens at each booth, visitors can scroll through memorabilia from their favorite musical acts when they aren't checking out in the in-house collection of rock artifacts.
The Hard Rock Café is more than just a few guitars hanging from the ceiling. The memorabilia is something special. Even a nostalgic skeptic can't help but be impressed by a cocktail napkin from the Beverly Hills Hotel with song lyrics scribbled on it. Seeing the start of a timeless song that will outlive us all is pretty damn cool.
It's true that most groups and couples are drawn to the Hard Rock Café looking for that inspiring, rock-related experience and not necessarily for a particular entree – but visitors will be happily surprised. Eating at the Hard Rock is another treat fit for rock royalty.
A Taste of The Menu
Despite what you might think, the Hard Rock's menu isn't filled with burgers and bland steaks – special only because of a quirky, rock-related name and "blues" cheese. Instead, the menu is something you would more likely find in a swanky, urban establishment.
From bruschetta, insanely fresh and crunchy covered with chopped, ripe, Roma tomato toppings, to single serving shots of specialty desserts of chocolate mouse and creamy cheesecake – a meal at the Hard Rock is unexpected treat from start to finish.
The menu options are enough that anyone can find something in their range of favorite flavors and preparation preferences from chef specialties in Italian to Southern Style BBQ and upgraded versions of American favorites.
A few stand out plates are the Homemade Eggplant Stack, a towering construction made with layers of eggplant mozzarella, tomatoes, arugula, and balsamic glaze, and Famous Fajitas, classic chicken wraps with a rainbow of toppings and fixens.
The Real Experience
The Hard Rock Cafe isn't about gimmicky guitars hanging from the ceiling. And it's not a tourist trap designed to lure in a local-attraction enthusiast.
At the root of the Rock – it's a really great restaurant spot perfect for group gatherings and special nights out.  With an atmosphere that will make an ordinary evening feel over-the-top and a menu with delicious offerings and something for everyone, the Hard Rock Café is a gathering spot wrapped in nostalgia and rock, good food and fun times.
Go for the first time for the experience. Then go back for the food.
It Just Keeps Getting Better
A new $75 million expansion project will make the Seminole Hard Rock the eighth-largest Hard Rock location in the world.
The expansion will extend the existing 190,000 square feet of gaming space by 32,000 square feet, making the casino floor larger than five football fields.  The space will have over 5,000 slot machines, 105 table games and 50 poker tables. In April, the Hard Rock held a huge job fair to hire over 400 people needed to operate the massive new addition.
Game on.