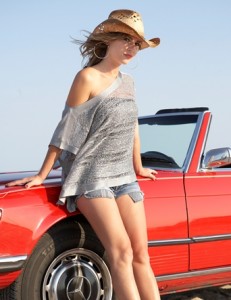 We want to see how the Bay area influences the musicians who live here, so we are going out and interviewing some of the best local talent and finding out what makes them tick in Tampa.
For our first profile we met up with 25-year-old Amber Lynn Nicol – singer-songwriter and lead singer for the Swingin' Poppas. It was a no brainer to interview Amber first because she is what we love about Tampa – all barefoot, beachy and breezy.
Amber's music is easy listening, blues on pop rock, that can be trouble. It's so easy to sit and listen to that you may end up with one more margarita than you planned on.
Amber's first album "Beach Day" is full of obvious influences of  her hometown and upbringing. With lyrics like "love palms trees, cool breeze, you here with me, big blue ocean air," it's the happy music you hear playing in your head while you are playing in the sand. But with other tracks like "Dancing With You," you can hear Amber's bluesy roots and country influence. She's got the pop and the twang – a sweet a mix for speakers in the sand, days on the water, or nights at your favorite tiki bar.
Amber Lynn Nicol
Currently Living: In St. Pete
Originally From: New Jersey
Favorite Local Musicians: Funky Seeds, Vicki Scuteri
Favorite Places to Play in Tampa: Bungalow
Favorite Places to Hang Out: Undertow, Crabby Bills, Bahama Breeze
Excited About: Tropical Heatwave (Amber and her full band will be playing)
Influences: Bonnie Rait, Ray Charles (& the pop music of her past)
For Fans of: Jack Johnson, Sheryl Crow, Jimmy Buffett
You can find Amber playing at Hyde Park Café, The Bungalow and Taps, among other local spots in both Tampa and St. Pete. Find her at the Collage in Ybor 7:40-8:40pm during Tropical Heatwave. If you can't find her around, its because she is busy recording her second studio album.
Check out more about Amber's music, show dates and upcoming album at  www.amberlynnnicol.com.