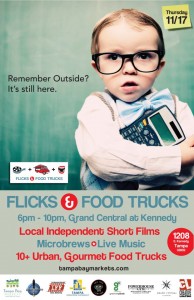 Food trucks are officially taking of Tampa!
And now Tampa Bay Markets – a nonprofit corporation whose primary purpose is to support a locally-based food system -is bringing Flicks and Food Trucks to the Channel District.
Every Third Thursday of the month there will be food trucks, films, craft beers, and live music. Good food, beer, music and movies — doesn't get much better than this.
The event will be held at The Grand Central at Kennedy right near The Pour House (so yes, I guess it did just get a little better).
Featured Food Trucks: Expect to find 10-15 gourmet food trucks offering everything from Burgers to Vegetarian Bites, there will be something for everyone! Also – this month will be featuring Cigar City Brews available on draft at the Pour House!
Flicks: Featuring independent short films (10-15 minutes each) provided by film partners – The Tampa Bay Arts and Education Network (TBAE) & The Independents' Film Festival (IFF).
The event is 21+, so bring your IDs and bring cash for beer and food. Some trucks take credit cards, but not all trucks do.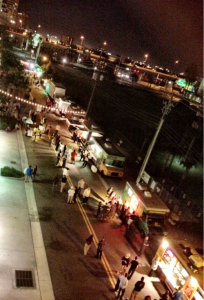 Please plan to expect waiting in line for your orders. While the food is worth the wait, it does not come fast because it's not "fast food". These are full blown restaurants on wheels and food is made to order.
Consider it similar to tailgating: Most people stand and eat at Food Truck events. If you are one who likes to sit and eat, then stake out a spot on a curb or bring a chair!
Be sure to bring cash for your purchases! Vendors appreciate small bills v.s 10's & 20's. Some trucks do take Credit Cards, but many do not. There is an ATM on site through the courtyard area.
Parking Garage located at Grand Central at Kennedy (900 spaces / Free for 2 Hours) entrance to Parking Garage off of Kennedy Blvd.