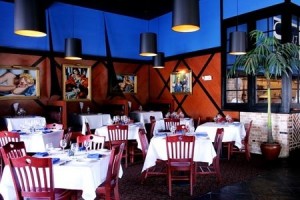 WHERE: 717 South Howard
WHAT: Culinary worlds colliding. The menu at 717 is a combination of two completely different cuisines – Pacific Rim/Asian and Italian – but somehow this menu of seafood and pasta feels perfectly paired.
WHEN (To Go): Business lunch. Even if you aren't going to 717 to talk about business, you will feel obligated to at least fake it while dining next to suits eating steaks. You can practically feel the power in the air.
WHY: Because you might bump into some of Tampa's best athletes and coaches. During a post game interview, Ray's head coach Joe Maddon commented that he and Buccaneer's head coach Raheem Morris "break bread once in awhile at 717… a very good restaurant in South Tampa." That's probably why Morris and the rest of the Bucs celebrated the end of the lock out with a dinner at 717.
WHO (To Take With You): Someone who appreciates the finer things in life. The interior of 717 oozes with high-end ambiance, the staff treats everyone like a VIP, and the designer food tastes as good as it looks. It  feels, tastes and looks uber expensive, but it's not.
HOW: 813-250-1661; On the Web. Find it on Facebook.