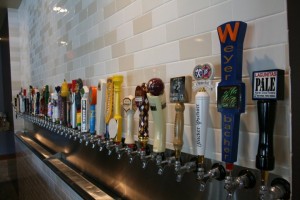 WHERE: 1208 E. Kennedy Blvd. (at Grand Central, Store Front Faces Madison St.)
WHAT: Neighborhood bar with everything you've ever wanted in your basement – a seemingly unlimited beer and wine supply, oversized couches, a pool table, popcorn machine and multiple flat screen tvs. It's bliss.
WHEN (To Go): In good conscience, we can't give you an official good time to visit the Pour House. The truth is, just about any time is a good time. It's a classic chill out spot so it's great even if nothing special is happening, and the Pour House special events, like Beer Poker, Live Music, Movies in the Courtyard and Keep the Pint Night make it equally awesome when it's wide awake. (Find the Pour House on Facebook or Twitter to stay in the know for all of the events.)
WHO (To Take With You): Your favorite beer snob. The Pour House has a 70 bottle beer menu and a wall of 40 taps with a rotating selection of craft and seasonal suds. So show your brew-brained friend that you know a thing or two about a quality pint of suds.
WHY: Because there is life beyond Bud Light. Take a baby step and try a Pour House sampler with four different 4oz. drafts. (WARNING: Once you start drinking craft beer, it's hard to return to your once beloved, mass produced domestics.) And if you fall in love with a beer you've never previously heard of (you will), the Pour House has six packs to go.
HOW: p. 813-402-2923; Draft List; Facebook; Twitter; www.pourhousetampa.com