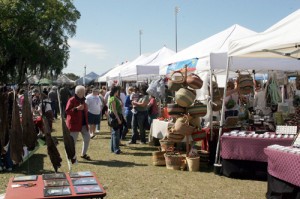 In search of some gourmet cooking ingredients? How about a one-of-a-kind gift? Or maybe some super fresh right off the tree (or out of the ground) fruits and vegetables? Or maybe all of those things?
Well, there is a place (4 actually) where you can find all of that and more while showing support for Tampa's local farmers, artisans and craftsmen.
In Tampa, four local Markets are providing our community with quality products, beautiful arts and some very good eats.
At the market you will find stands of locally grown and/or produced fresh fruits, vegetables, herbs, honey, eggs and milk. Bouquets of roses and sunflowers. Fresh baked breads, bagels and pastas. Homemade soaps, potpourri and folk art. And jewelry, silver and hand cut t-shirts.
And by supporting these markets and shopping locally, you are helping to preserve our community as well as promote our small and independent businesses.
Tampa's Downtown Friday Market – Every Friday through May 27; 10:00 am – 2:00 pm; On Franklin Street between Madison and Zack
Features Live Music and Booths with Hot and Pre-Prepared Lunch Options
Ybor City Saturday Market – Every Saturday Year Round; 9:00 am – 3:00 pm (Summer Hours 9:00 am – 1:00 pm begin May 7); Centennial Park on the Corner of 8th Ave and 19th St.
Upcoming Events – February 26: FlanFest and Fiesta Day; April 16: Festa Italiana; May 14: Paws in Ybor
Seminole Heights Sunday Market – Every Second Sunday, October through May; 9:00 am – 2:00 pm; Front Lawn of Hillsborough High School
Features Live Music and Cooking Demos
Hyde Park Village Fresh Market – First Sunday of the Month; 11:00 am – 3:00 pm;  Near the Courtyard Fountain
Local Food, Hand Crafts and Live Music