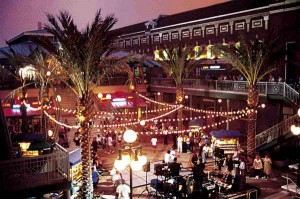 Ybor is easily the most historic, diverse and unique neighborhood in Tampa. In a simple stroll down 7th Avenue, which runs directly through the heart of Ybor City, you can catch a taste of Tampa – past, present and future. Historic, brick buildings line the street and house progressive and eclectic boutiques and night clubs creating a combination of old and new, odd and original, and bold and exposed.
Ybor Restaurant Guide
The Bricks of Ybor – One menu item says it all. P2B2JR – Yes, this is a combination plate that includes a tall boy PBR and a peanut butter and jelly sandwich. Love this Skatepark of Tampa bar/cafe/restaurant. www.thebricksofybor.com
The Columbia – This historic Cuban/Spanish restaurant has been serving quality food in this exquisite atmosphere since 1905. columbiarestaurant.com
The Blue Dog Bistro – A bistro sports bar where you can enjoy the game with some grub that won't make you feel 10 pounds heavier by half time.
Acropolils – A complete Greek celebration with food, drink, music, belly dancing, paper napkin explosions and sometimes even some plate breaking. www.acropolistaverna.com
Bernini – Sophisticated Italian dinning where you can play fancy but spend cheap with 1/2 price entrees before 7pm. www.berniniofybor.com
New York, New York Pizza – Frank Sinatra would have sang about this pizza. On the Web.
Fresh Mouth – Burgers, fries, and shakes that taste like the 50's. On the Web.
Hamburger Mary's – Gay-friendly bar and grill with nightly events of Mary-oke, drag queen bingo and female impersonation shows. www.hamburgermarystampa.com
Roma Pizza – Stumble out of a club and right into 2 am pure pizza bliss.
The Stone Soup Company – The Soup Nazi would approve of these delicious homemade concoctions but not the Stone Soup theory of "Mo' Soup for You!" www.stonesoupco.com
Samurai Blue – Swanky Sushi joint with rolls that look like art and a cocktail bar serving sexy, sake-infused specialties and saketinis.   www.samuraiblue.com
Green Iguana – A great bar and grill is defined by a delicious menu, great drink specials, classic live music performances and an inviting atmosphere. Green Iguana proves that you can have it all. www.greeniguana.com
Tampa Bay Brew Co. – You simply can't have enough locally crafted microbrews and a menu filled with pairing appetizers and entrees.  www.tampabaybrewingcompany.com
Ybor Bar Guide
Centro Cantina – Plopped right in the heart of Centro Ybor, this chill, 2nd-story, outdoor bar makes it easy to feel like you are in the middle of a wild night in Ybor, without feeling all of the pressure of actually being stuck on 7th. On the Web.
Gaspar's Grotto – If a pirate were to retire from pillaging, decide to use his remaining booty to invest in an establishment serving quality, Cuban and island-influenced foods and rums from around the world, it would be Gaspar's. It is Gaspar's. www.gasparsgrotto.com
New World Brewery – Go sit in the beer garden and enjoy an extensive selection of microbrews, imports and seasonals as well as awesomely good live music and pizza. www.newworldbrewery.net
Doppel Decker –There is a reason that German bars have a reputation for a drink-slamming good time. It starts here with a Das Boot. www.doubledeckertampa.com
James Joyce Irish Pub – Follow the steps up to this 2nd story Irish bar and you'll never know what you'll find – live music, bag pipers or jello wrestling. Find it On Facebook
Coyote Ugly Saloon – You've seen the movie. Now go to the bar. And no, Tyra Banks doesn't work there, but there are girls dancing on the bar. www.coyoteuglysaloon.com/tampa
Crowbar  – Rock and roll with this courtyard bar of live music and the best karaoke in Tampa. www.crowbarlive.com
Ybor Events and Things to Do
Ybor Saturday Farmer's Market – Every Saturday Centennial Park in Ybor hosts an open air market with stands selling locally-grown produce, fresh-baked breads, flowers, artwork, candles and more.  www.ybormarket.com
Ybor Art Colony Open House – 2nd Saturday of the Month – Watch the art come alive in this studio open house with live painting demos and artist meet and greets.
Art on 19th Street – 1st Saturday of the Month – The businesses on 19th Street in Ybor City, between 8th and 9th Avenues, host an open house event featuring live art demonstrations, music, and more.
Ybor Shops and Cafes
Agora – Eastern-influenced, quirky home decor shop with candles, incense, tapestries and all things Zen.  www.shopagora.com
Revolve Clothing – Buy one of a kind at this clothing and accessory boutique that sells, buys and swaps vintage and eccentric styles. On The Web.
SPoT Skate Shop – All the clothes, equipment and accessories you'll ever need to fit in at this shop's big brother The Skatepark of Tampa. www.skateparkoftampa.com/spot/default.aspx
Tre Amici @ The Bunker – Enjoy a cup of organic/fair trade coffee or tea, a glass of wine or craft beer at this independent coffee house where local music and art live on the walls and in the speakers. On the Web.