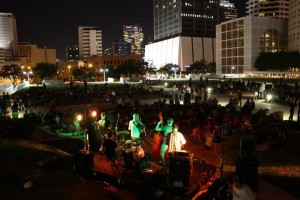 Downtown has a pulse and once months it bumps to a beat.
On the first Thursday of every month, Rock the Park arrives to Tampa's riverside, urban park with live music, beverage vendors and the best excuse to sit outside and simply enjoy.
The free event sponsored by TBT, the Tampa Museum of Art and Reax Magazine is held in the newly renovated Curtis Hixon Park. And if you haven't had a chance to visit the park since its reinvention, this is the best time to experience the park at its finest. Updates and remolding have made this waterfront square a fantastic and modern urban park nestled right between the University of Tampa Minarets and towering skyscrapers of Downtown.
And the amenities of the park make it a perfect locale for an evening concert series. The stage is set up on the breezeway leading up to the Tampa Museum of Art and lined with chairs so if you want to be front row and center, you can. But if you'd rather watch from afar, there is plenty of lawn space to choose a distance fit for your preferred listening volume.
But since Rock the Park features some of the best local musicians from around the bay, you will likely end up closer than you expected.
The event kicks off around 6:30pm and offers concession stands for soda, water, wine and beer. Sono Café at the Tampa Museum of Art will also be open and serving sandwiches, salads and artesian gelato.
Read more about Curtis Hixon Park.