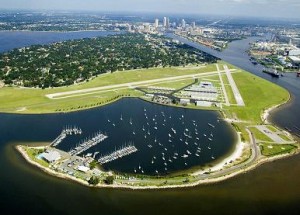 Davis Islands can hardly be considered just a neighborhood of South Tampa. It is so much more than that. Cross the bridge onto DI (the only way to reach the islands by land) and the skyscrapers of Downtown fade out and you are immediately whisked away to the small town that isDavisIslands. Expect all of the comforts of tight-knit community in a place where the people are friendly, the food is good and the atmosphere is always as inviting as a coolFloridabreeze.
Davis Islands Restaurant Guide
220 East – The secret is out. This is DI's best spot for American style cuisine, Burgers, Sandwiches, Fish, Pasta, and Salads. www.220east.com
Margaritas Mexican Restaurant – Order the Cheese Sauce with your chips and then order any entrée drizzled in the same. www.margaritasmexicanrestaurant.com
Farrell's on the Island– Breakfast and lunch done right on bagels, sandwiches and melts. And on Sundays, enjoy these delights buffet style. Farrell's Facebook Page.
Grecian Island – The only thing better than the Grecian's gyros are their breakfast specials they serve every morning with a side of home fries cut fresh from the potato.
Soobak – Sushi and Yogurt Bar? Yes, Soobak is a self serve frozen yogurt shop/Sushi & Asian cuisine restaurant. Taste it to believe it. Find it on Facebook.
Island's Pizza – The Islands's premier pizzeria. Find it on Facebook.
Thai Island– Authentic Thai food so good, you will wish you would have tried Pad Thai the first time someone told you to.
The Anchor Bar – Cozy up to giant flat screens, finger-licking wings and drink specials that will keep you bellied up to the bar way later than you had planned. www.anchorbartampa.com
Davis Island Shops and Cafes
Serendipity – Quirky gift shop built on incense and candles, designer greeting cards, jewelry and unusual gifts that will have you thinking "why didn't I think of that?"
TeBella Tea Company – Tea shop and café serving over 85 varieties of loose-leaf tea and locally made treats like French macaroons and artisanal chocolates.  www.tebellatea.com/
Wag – Spoil your pooch at this pet lifestyle store retailing all natural dog foods, snacks and cookies and some glam accessories for your diva dog. www.wagoftampa.com