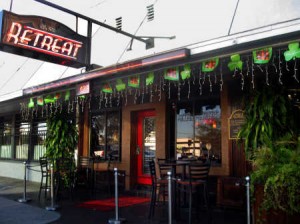 WHERE: Hyde Park; 123 S. Hyde Park Ave.
WHAT: This reformed dive bar has managed to stay true to the elements of a hole in the wall establishment (friendly bartenders and patrons, good drink specials) while embracing some class and drinking sophistication (sleek décor, drop lighting, no more bums allowed).
WHEN (To Go): If you are out of college – anytime before 12pm. If you are in college or still act like it – anytime after 12pm. The close proximately to UT makes this a happening afterthought bar for students on campus. It's the perfect back up bar for when plans fall through so it really starts to fill in with students around midnight.
WHY: Because it's a great place to meet people. The small size and abundance of bar games (pool, darts, corn hole, touch screens) make it impossible not to spark up a convo with the person next to you. And the underlying dive bar feel makes people friendly even if it's against their nature.
WHO (To Take With You): You friend who can't sit still. The Retreat is perfect for your friend with undiagnosed drinking ADD. There is always something to do and someone new to talk to.
HOW: p. 813-254-2014; www.retreattampa.com; Find it on Facebook