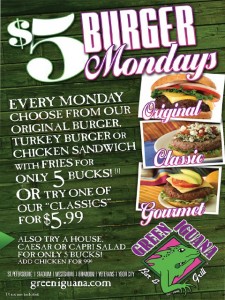 Just because Monday is arguably the worst day of the week, doesn't mean you have to sit at home and sulk. So before you decide to lie around all night and dread the rest of the workweek, check out our list of Monday Deals and Steals that might make you feel like removing yourself from your couch.
Yard of Ale – SoHo – Margarita Monday & Trivia Specials Starts at 7 PM; Enjoy $7 Margarita Yards, $14 Margarita Pitchers, $7 Miller Lite Pitchers, $2 Beef Tacos, $3 Chicken Tacos and play some 80's and 90's Pop culture trivia. Trivia starts at 8 PM.
The Retreat – Hyde Park – Service Industry Night From 9pm – Close enjoy ½ off for hospitality; Non-Hospitality: $3 Domestic Drafts, $4 well drinks, $5 bombs, $5 32 oz Absolut liquor pitchers, 62 oz Bud and Bud Light pitchers.
MacDinton's – SoHo – Monday Game Night From 7pm until close play free darts and Ping Pong. There's flip cup and beer pong on the patio with $6 Domestic Pitchers, $2 Miller Lite bottles, $4 Tullamore Dew Irish Whiskey and Finlandia Vodka drinks, and $4 Bomb shots.
The Bungalow – Hyde Park – Hospitality Monday Get1/2 off for people in the BIZ
The Patio Tampa – South Tampa – Enjoy 5 bottles of Bud Lite beer for $12 from open to close and live music from 3-7pm.
Gaspar's Grotto – Ybor City – Country Night – Enjoy FREE Jack Daniels from 7-7:30pm, plus free cover and live music.
The Brass Tap – Ybor City – Hospitality Night From 9pm – Close, get 1/2 Off select drafts and  $3 select shots
Green Iguana – Ybor City – $5 Burger Mondays Choose from an original burger, turkey burger, or chicken sandwich with fries, try a "Classic" for $5.99 or $5 House Salad or Capri Salad
Green Lemon – Hyde Park – $2 Baby Burritos – Every Monday enjoy your choice of Beef, Chicken, Ground Turkey, Pork or Veggie baby burritos.
Did we miss something? Another great Monday Night Deal we forgot to add to our list? If so, let us know?
Please keep in mind that things don't always go as planned and specials are subject to change. So if you get to one of our deal spots and your server looks at you like you are crazy when you say you won't pay full price, please don't blame us!