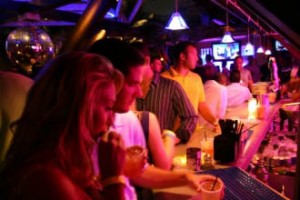 Friday is finally here and although most of you don't need a drink special or cheap food to convince you to get out tonight, here is a list anyways.
MacDinton's – Hyde Park – Crazy Happy Hour Every Friday night from 6pm – 8pm enjoy $10 Open Bar including ALL Draft Beers, Heineken Light bottles, House Wines & Well Liquors, Bacardi,Southern Comfort & Sailor Jerry cocktails.
The Bunker – Ybor City – 1st & 3rd Fridays:Open Mic Night 7:30pm-9:30pm; 2nd & 4th Fridays: Trivia Night 7:30pm-9:30pm
Dubliner Irish Pub – Hyde Park – Fantastic Fridays $10 – All You Can Drink from 5:30 – 8:00 pm, includes select beers, liquors and wines.
Double Decker – Ybor City – Karaoke Buy 2 get 1 FREE Irish Car & Jaeger Bombs
Garage Bar & Grill – Channelside – Happy Hour Doubles Price of Singles and 50% off Appetizers from 4-7 PM
Hyde Park Cafe – Hyde Park – Flip Flop Fridays From 7pm-10pm enjoy Live Music, No Cover unitl 10pm, 2-4-1 Draft Beers & Personal Pizzas (8″) , $3 House Wines, $5 Jose Cuervo Traditional Silver Margarita Selections and Double Talls on All Drinks
The Lodge – Hyde Park – Happy Hour 11:30 am-7pm get $3 select domestic drafts , $4 house wines , $5 sangria and $5 select call cocktails
The Bricks of Ybor – Ybor City – 10pm-Close enjoy live DJ's spinning indie, soul, hip hop, punk, reggae, and more as well as $4 house wine and cocktail specials and $5 Red Bull vodka
Did we miss something? Another great Friday Night Deal we forgot to add to our list? If so, let us know?
Please keep in mind that things don't always go as planned and specials are subject to change. So if you get to one of our deal spots and your server looks at you like you are crazy when you say you won't pay full price, please don't blame us!