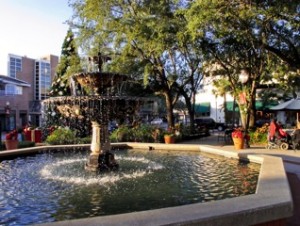 To spend? Or not to spend? That is the question.
It sure seems like the battle with your sometimes swelling, usually shrinking wallet can take away the fun from a day at the mall. Pacing the florescent hallways with an empty pocketbook while being bombarded by vendors trying to straighten your hair and spray you with purple perfume hardly feels like enjoyment.
So thankfully we have Old Hyde Park Village – a shopping district that offers entertainment regardless of the depth of your wallet. After looking at the list of shops and boutiques in Old Hyde Park Village, it may seem like an odd place to go if you are trying to save, but the secret to Old Hyde Park Village is that you don't have to spend to enjoy.
A Window Shopper's Dream
As you walk up to the quaint, brick backdrop of Old Hyde Park Village, the lush courtyard in the heart of an array of store front windows will make you wonder why you ever wasted a Saturday afternoon inside the mall. This is shopping in style.
You can choose to go inside or window shop at a variety of boutiques and specialty stores ranging from fashion to home goods to pet accessories.  You can pick up a few fashion tips by browsing trendy Anthropologie's or fashion-leader Coco Brazil's window displays. If you're more of a home décor lover, look around the floors of Pottery Barn to check out elegant new trends to inspire you on your next decorating indulgence.
Grab a Bit or Drink in Hyde Park
When in need of a break from window shopping, you can grab a healthy snack at Nature's Table Café, featuring Paninis, melts, salads, smoothies and more. Or if all of that saving has made you want to spend a little, check out Timpano Italian Chophouse for its steaks, chops, pasta and raw bar cuisine. Don't forget to order a Martini with your meal!
If a Martini isn't your thing, try Wine Exchange for a wide assortment of reds and whites. And if it's too early for a drink, try a coffee.  Indigo Coffee has atmosphere great for studying and relaxing and offers a menu full of freshly roasted coffees.
Try Something New
If you are just plain tired of the usual shopping and eating routine, try something new and stop into Color Me Mine. This hands-on art studio is perfect for letting out your artsy side. Pay a flat rate for unlimited access to paints, stencils, brushes and other art tools (even bubbles), then choose what you want to paint from over a hundred different clay pieces, ranging from coffee mugs to dog dishes. Pay for the piece and paint as long as you want. When you are done, the staff will throw your creation into a kiln and fire it up. Come back five to seven days later to pick up your very own work of art.
If that just sounds like too much work for your lazy day, then CinéBistro is probably your best bet. This new movie theater-restaurant offers oversized, comfy chairs with tabletops so you can enjoy dinner and drinks while catching a new release. Get there a little early so you can order from the full menu before the movie starts, then enjoy a blockbuster on the big screen with full wait staff service – a true dinner and a movie experience.
The Best Things In Life Are Free
And the free entertainment at Old Hyde Park Village doesn't stop at the window shopping and basic enjoyment of the park-like atmosphere. Several free charity and social events are held throughout the year.
Events throughout the year include a Chalk Walk and many art and craft festivals. Keep up-to-date on the happenings at Old Hyde Park Village by checking out their website www.hydeparkvillage.net. You can also follow them on Twitter (@HydeParkVillage) and Facebook.
So whether you're looking to window-shop, enjoy a delicious meal or simple take a break from your busy day, visiting Old Hyde Park Village is a great excuse to get outside and do something… or nothing at all.