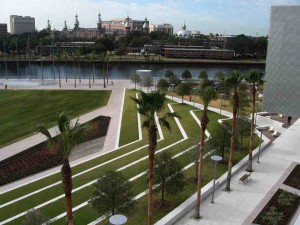 Over the past decade, Tampa's downtown has changed dramatically. The development of new museums, restaurants and condos has created an urban area where residents can work, play and live. And now thanks to the reinvention of Curtis Hixon Park, Downtown has urban, outdoor area to compliment the growing neighborhood surrounding Tampa's heart. 
The 8-acre park, located between Ashley Drive and the Hillsborough River, has been completely renovated over the past year. New features such as a modern children's playground, gated dog park and interactive water fountain were added, and the landscape has been altered to allow for maximum utilization of the space.
Wide, cascading grass steps lead into an open field large enough for full on game of football, while the steps designate space for lounging and relaxing away from the chaos.
But the best thing about the open space surrounding Curtis Hixon Park is the view. Towering skyscrapers, modern museum fronts and gleaming University of Tampa Minarets surround the riverfront park. (Visit the Park at sunset for an upgraded view of Tampa's sparkling downtown.)
And for a virtual glance, please view this beautiful video showcasing Downtown and Curtis Hixon Park brought to you by Chad Soriano.
And Curtis Hixon Park is more than a grassy piece of urban eye candy. It is also a growing location for community events and activities. Check out a few of the amenities and ongoing events at Tampa's newest natural addition.
Tampa Museum of Art
If you find yourself at Curtis Hixon Park on the second Saturday of the Month from 9 am – 11 am or any Thursday evening from 5 pm – 9pm, take a stroll through the Tampa Museum of Art for a "Pay What You Will" admission. Donations are suggested but if you are just taking a quick tour, do it for free. (General Admission is $10 for adults, $5 for students.)
Sono Cafe (Part of the Tampa Museum of Art)
While the new Tampa Museum of Art may add a modern backdrop to Curtis Hixon Park, it also adds something else even more appealing… food. The Museum's Sono Café, which is accessible through an admission free entrance, is open seven days a week and offers a menu of "Slow Food." The counter to fast food, Slow Food is the concept of dining that asks guests to "slow down and enjoy the dining experience with all the sensations that accompany the consumption of good food and quality ingredient."
The menu at Sono Café, which is operated by Mise en Place of Tampa, is Italian inspired and offers wines, desserts, coffees, salads and yes, even PB and J. So forget your park picnic and stop into this waterside café for lunch, snacks or drinks. Click here for a full menu.
Sono Cafe also features artisan gelato from Gelateria del Duomo which won the 2010 Best of the Bay award for Best Artistic Gelato!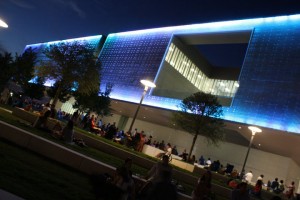 Rock The Park
On the first Thursday of the month Curtis Hixon hosts Rock the Park, a concert series showcasing local musicians.
One of the great things about the event is that you can be as close or as far from the music as you like. The stage is set up on the breezeway leading up to the Tampa Museum of Art and lined with chairs so if you want to be front row and center, you can. But if you'd rather watch from afar, there is plenty of lawn space to choose a distance fit for your preferred listening volume.
And because no concert is complete without a few drinks, a refreshment stand is available to help you quench your thirst with a soda, a water bottle or a beer.
(Don't forget that Rock The Park is held on Thursdays, so you can visit the Tampa Musuem of Art from 5 pm – 9 pm for "Pay What You Will" admission prices.)
Don't miss the next show. Connect with Rock the Park on Facebook for updates on upcoming concerts. Follow the Tampa Downtown Partnership on Twitter and Facebook to find out more scheduling details.
Free Yoga in the Park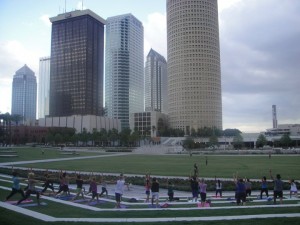 Before you jump back into a week filled with work and classes, visit the park for a Sunday sunset yoga class provided by Happy Buddha Yoga Lounge, a yoga studio located in Downtown. The session starts at 6 p.m. and is free to all attendees. Check out their Web site for a full class schedule or visit their Facebook page for more details.
Whether you're looking to listen to live music, find your center at a yoga class or simply relax after a busy day, Curtis Hixon Park has room for it all.